Dixie Zinc Copper Project

Pistol Bay Mining Inc. has executed an option agreement to acquire a 100% interest in Zinc-Copper properties located in the Red Lake, Ontario region. The Dixie 17-18-19,20 properties ("Dixie Claims") consist of 67 claim units (1,072 hectares) located in the Confederation Lake greenstone belt, 35 kilometres southeast of Red Lake, Ontario. The Confederation Lake belt is known to host numerous Volcanogenic Massive Sulphide (VMS) occurrences and deposits.
The largest VMS deposit to date in this region is the South Bay Mine, which produced between 1971 and 1981, approximately 354,000,000 pounds of zinc, 57,600,000 pounds of copper and 3,740,000 ounces of silver from 1,600,000 short tons (grades of 11.06% Zn, 1.8% Cu and 72.7 g/t Ag).
The three Dixie mineralized zones were explored by Selco in the 1977-1981 period, by Noranda in 1989-1992 and by Tribute Minerals Inc. between 2002 and 2009. Selco drilled a total of 40 diamond drill holes, Noranda drilled 7 holes and Tribute Minerals drilled 11 holes.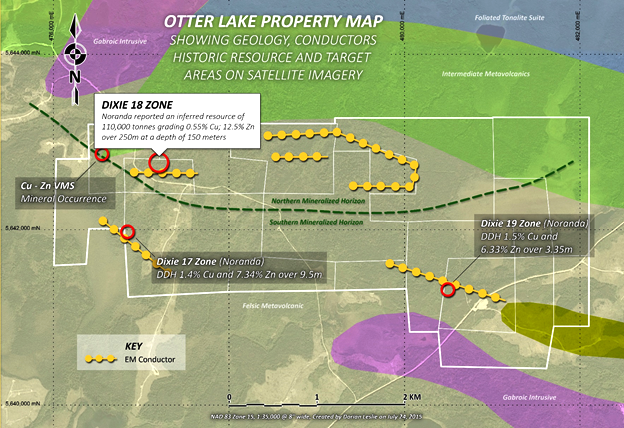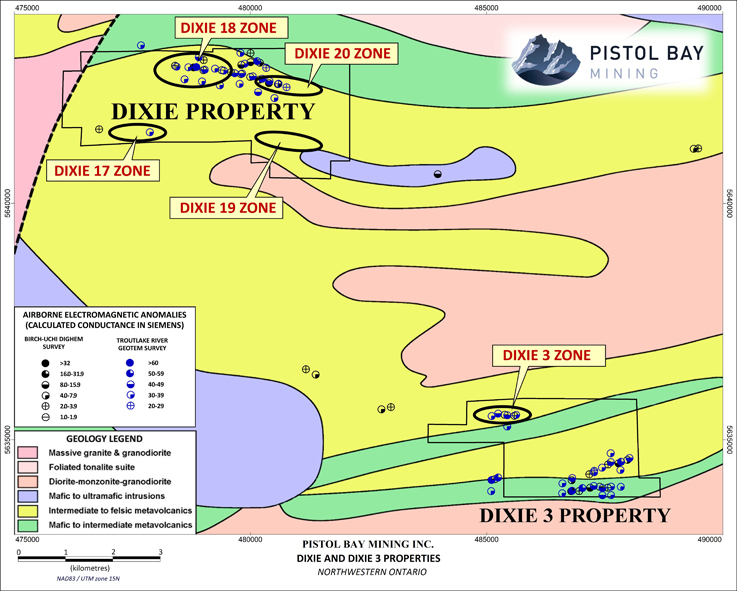 A mineralized zone on Dixie 17 has yielded results up to 7.34% Zn and 1.4% Cu over a core length of 9.5 metres.
The Dixie 18 mineralized zone has been drilled over a length of 250 metres and to a depth of 150 metres.
The Dixie 19 zone has been traced over a length of 500 metres, with drill intercepts including 6.33% Zn and 1.5% Cu over a core length of 3.55 metres.
Noranda produced a resource estimate of 150,000 short tons grading 14% Zn (Note: this is a historical resource estimate that does not comply with NI 43-101 and has not been reviewed by a Qualified Person to assess its reliability. It was presented in a 1992 assessment report by Noranda Exploration, and post-dated all the diamond drilling done on the zone to the present. The method(s) of calculation were not disclosed. The estimate was called a "mineral inventory", a term which does not conform to any of the classes of mineral resource or mineral reserve recognized by NI 43-101. Its relevance is that demonstrates the order-of-magnitude size and grade of the mineralized zone).
Tribute Minerals carried out a Titan 24 "deep earth imaging" survey over the Dixie 19 zone and a series of previously untested airborne EM anomalies, east of and on strike with the Dixie 18 zone. This survey defined a new "blind" anomaly (i.e. one which does not come to surface) beneath the Dixie 19 zone.
• Two diamond drill holes put down in 2002 tested what appeared to be the top of this new zone beneath Dixie 19. Drill hole DX2002-01 was reported to have intersected 1.25 metres averaging 9.71% Zn, 0.20% Cu and 10.7 g/t Ag, and drill hole DX2002-04 reportedly cut 1.25 metres averaging 5.32% Zn. These intersections were at vertical depths of 262 and 350 metres respectively. No deeper drilling was done on this target, despite the interpretation that the top of the conductor was at 375 metres below surface.
• A second, much larger, and much deeper conductive body, was located north of Dixie 19, and approximately on strike with the Dixie 18 zone (Note: the western two-thirds of the property, including the Dixie 17 and 18 zones, was not covered by the Titan 24 survey). This anomaly was referred to as Dixie 20. The conductive body, a resistivity low interpreted from inversion modelling of magneto-telluric data, has an irregular shape, but extends over a length of 1,800 metres. One diamond drill hole, DX-2003-01A may have intersected the top of the zone. This hole cut a wide zone of altered felsic pyroclastic rocks, with variable pyrite content. The highest assays were 0.98% Zn and 1.13% Cu. Down-hole electromagnetic surveying indicated that this hole had penetrated a large (up to 800 × 800 metres) conductive body close to its edge.
• A preliminary review suggests that, in addition to the Titan 24 anomalies below the Dixie 19 deposit, and the deep anomaly at what is now called Dixie 20 there are several potential target areas where there are mineralized drill intercepts that were not adequately followed up, and geological targets such as favourable volcanic horizons. The western two-thirds of the property, including the Dixie 17 and 18 zones, has not been covered by deep-penetrating geophysical surveys. The principal zinc mineral, sphalerite, is not electrically conductive, and the absence of strong electromagnetic conductors should not be taken to mean that zinc is absent. The three VMS zones (Dixie 17, 18 and 19) have not been fully closed off by drilling and are partly open at depth, especially the Dixie 19 zone with the geophysically interpreted deep zone below the historical drill holes.
• The Company intends to compile all the historical data on the property, as well as review all the Titan 24 and down-hole EM data in light of Tribute Minerals' diamond drilling results. A systematic program of exploration will be developed.
Technical material in this document has been reviewed by Colin Bowdidge, Ph.D., P.Geo., a Qualified Person as defined in National Instrument 43-101.
On Behalf of the Board of Directors
Pistol Bay Mining Inc.
"Charles Desjardins"